Confirmed
Moyen Poodles
Date of Birth: September 25th, 2023
Sire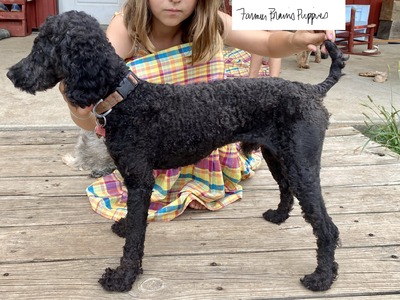 View Profile
Dam
View Profile
Fancy and Finn have had their second litter of moyen poodle puppies! We have 6 females and 2 males. We expect these puppies to be in the 18-20 lbs, 16-17" range. The puppies from their first litter are a year old now and have all turned out to be great looking poodles!
Puppies were born in and will be raised in our home. They will have their tails docked to "show poodle" length. They will be dewormed reguarly and will be given their first two puppy vaccines before going home and willl receive a vet check from our beloved vet. Puppies will be microchipped, as well. They will be well socialized with people, kids in particular, as we have seven children that help with the puppies daily. The puppies will also be well socialized with dogs of all sizes. We also groom the puppies several times while they're here with us.
Fancy and Finn have both been genetically tested and found to be clear. They're both sweet, very friendly dogs. Fancy is about 30 lbs and 18" tall, while Finn is about 14 lbs and 16" tall.
Puppies will be ready to go home the week after Thanksgiving. Contact us today for more information!
Miniature Poodles
Sire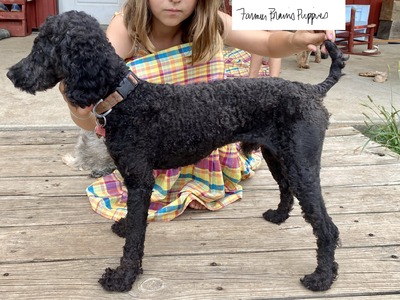 View Profile
Dam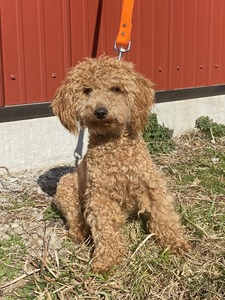 View Profile
Puppies
Faint phantom female reserved for Carrie
Sold
---
Roux and Finn have had a litter of two sweet miniature poodle puppies, a male and a female. Fleetwood is a little bigger than his sister, Rhiannon. We anticipate that they will be in the 10-12 lbs, 14" range. Both mom and dad are super sweet, friendly dogs and both have nice long, poodley legs. Puppies will be up to date on shots and dewormings, as well as using a potty tray by the time they go home. They were born in and are being raised in our home with our seven children, aged 14 to 2, so they will be well socialized. They will be ready for their new homes at 9 weeks, so around August 30. Contact us for more information or to make one of them yours today.
Check out our upcoming litters page for planned/expected moyen poodle litter(s).